Protect & Grow Revenue Now. WMC Is The Only Platform You Need To Monitor Competitors
WatchMyCompetitor (WMC) is the only competitor intelligence platform that combines automated tracking and expert human analysis, saving you time and bringing you actionable insights faster.
Provide your teams with a continuous flow of actionable insights and enable them to make smarter decisions. Harness real-time intelligence to identify commercial threats and opportunities now and formulate winning strategies.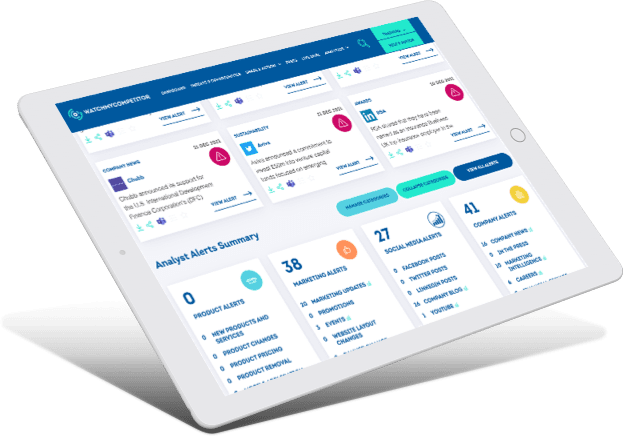 Monitor Your Competitors' Global Digital Footprint

Why Use WMC To Monitor Competitors?
How WMC Can Support Your Business
WMC is a competitor intelligence platform that enables organisations to make smarter decisions faster. It uses AI technology to allow organisations to monitor competitors' global digital footprint in real-time. Furthermore, we have a team of market analysts to curate the data.
The result is that our clients get a continuous flow of the most relevant, actionable insights into their organisation. They can then use this intelligence to validate and optimise strategies and gain a competitive advantage.
Informed
Real-time alerts mean you never miss a single detail. You can react instantly to any change in your industry, take advantage of opportunities, set trends and never get left behind.
Ahead
Comprehensive, top-down industry analytics show you how you shape up against competitors in real-time. Adapt and optimise to deliver superior offers, stand out from the crowd, increase market share and drive revenue.
Efficient
Full market intelligence automation increases efficiency and frees you up to focus time and resources on more pertinent high-value activities.
Strategic
Deep insight into your competitive landscape, your customers and your own brand defines and reinforces strategy and improves decision making.
Prepared
Dashboard tools for timely, reliable intelligence enrich your own analysis and reports. Have every detail covered and present to senior stakeholders with confidence.
Inspired
Full exposure to everything happening in your industry aids innovation. Never be short of inspiration for product development, campaigns and content.
Integrated
Collaboration tools make it easy to empower your teams with knowledge, putting your entire business on the same page.
See The Complete Competitor Intelligence Platform In Action.
Book a demo and see exactly how the WMC Competitor Intelligence platform can help you protect and grow revenue.
* required fields