Win More Sales With Competitive Battle Cards
Compare your competitors' strengths and weaknesses. Identify threats and opportunities. Maximise your competitive advantage. Competitive battle cards help you make smarter decisions faster to increase sales.

Compare Competitors Side-By-Side

Validate And Optimise Your Strategy

Protect And Grow Your Revenue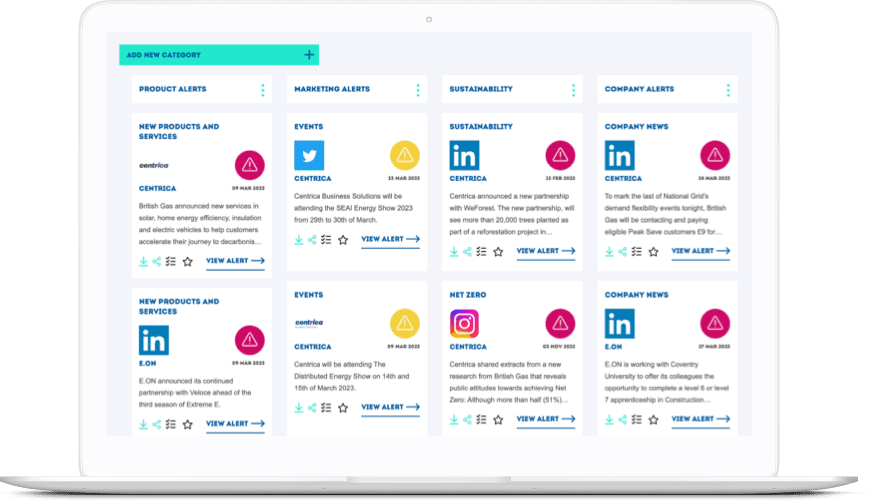 What Are Competitive Battle Cards?
Battle cards are competitor intelligence tools. They contain up-to-date intelligence about your closest competitors across criteria such as strengths, weaknesses, price points, USPs and more. They're used by sales teams to gain a competitive advantage and secure deals.

Fast Access To Competitor Intelligence
To outsmart your competitors you need the most relevant insights fast. Competitive battle cards will immediately bring you real-time intelligence. They're captured and curated in a digestible format, so you can make comparisons, adapt and gain your competitive advantage.

Improve Your Sales Strategy
It's hard to gain a competitive advantage without knowing your position. Competitive battle cards give you a snapshot of your strengths and weaknesses versus those of your competitors. By comparing across set criteria, you'll identify how to optimise your sales strategies and maximise sales.

Customise Battle Cards To Your Exact Needs
Sales teams don't have time to sift through high volumes of intelligence. It's about focusing on relevant insights. By combining automated tracking with human analysis, we cut through that noise and give you the intelligence you need to make smarter decisions faster.
Get Started With Your Competitor Battle Cards
1
Book a demo
See WatchMyCompetitor in action. We'll run a no-obligation demo of WMC, so you can visualise how it will work for your organisation.
2
Sign-up
Tell us your challenge, answer a few simple questions and leave our market analysts to set up your WMC dashboard.
3
Gain Your Advantage
Track your competitors in real-time. Access the most relevant, timely and actionable insights. Outsmart your competition.
See The Complete Competitor Intelligence Platform In Action.
Book a demo and see exactly how the WMC Competitor Intelligence platform can help you protect and grow revenue.
* required fields