Use Marketing Intelligence to Improve Campaign Success
Capture real-time marketing intelligence to make data-driven marketing decisions, improve strategies and maximise campaign performance. WatchMyCompetitor (WMC) tracks and analyses your industry using artificial intelligence.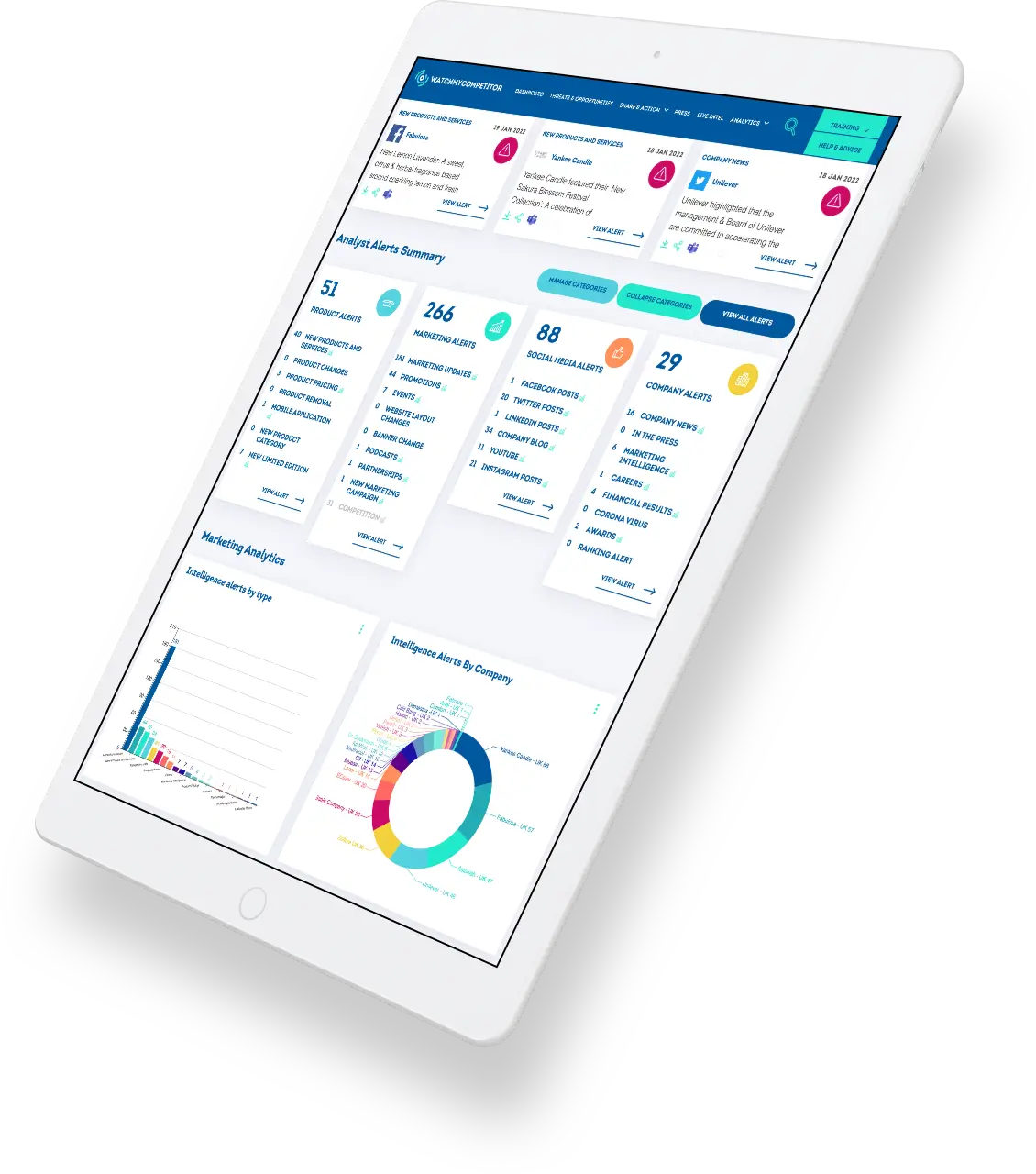 What is Marketing Intelligence
Marketing intelligence refers to the insights gathered and analysed about the market you operate in. WMC tracks consumer behaviour, actions and communication about you and your competitors, alongside important industry news. Giving you a comprehensive and clearer picture of the market.
Who Benefits From
Marketing Intelligence
Marketing intelligence supports various departments, but is of particular value to marketing teams seeking to use data to build and validate their strategies.
Support For Your Marketing Team
It provides unique insights into what exactly consumers want, how they think and feel about the brands, and how that's reflected in their buying behaviour. Insights focus on a broad range of areas, from how consumers have scored and reviewed competitor services, to how they interact with them via social media and other channels.
How Can WMC Support Your Marketing Team
Have automated intel delivered to your teams directly into their workflows.
Integrates with your workplace tools.
DISCOVER MORE
Marketing FAQs
Marketing intelligence is typically sourced by manually tracking the overall market and your competitors or by using market and competitor tracking software. WMC's analysts will help you set up and fully utilise an intelligence dashboard, so that you can access live, relevant insights about consumers and competitors in one place, ready to share with your team.
Gathering the right marketing intelligence allows you to stay ahead of the competition or close the gap on market leaders. The correct data enables your business to make smarter and faster decisions, therefore enhancing your marketing, sales and product strategies.
The data market research collects doesn't exist prior to the project being undertaken. It creates insights by posing new questions and using research techniques such as interviews, surveys and exercises to draw out consumer opinions, wants and needs. Marketing intelligence doesn't influence the data it tracks and captures. WMC gathers information as it's published online and draws conclusions from the incoming data.
Give Your Marketing Team The Necessary Tools To Succeed
Book a free demo to find out more about WatchMyCompetitor and how it can transform your marketing team
* required fields