WMC Weekly Training Webinars
Ensure you and your team get the most out of the WMC competitor intelligence platform.
Every Tuesday & Friday 2pm - 3pm (UK time)
Suitable for new and existing users of the platform
Bespoke training with an experienced WMC instructor and live Q&A session at the end
Overview Of A WMC Training Webinar
The WMC weekly webinar is a great way for employees at existing partner companies to better understand our competitor intelligence platform. An experienced instructor will conduct the webinar. The instructor will tailor the training webinars according to participants' requirements at the beginning of the session.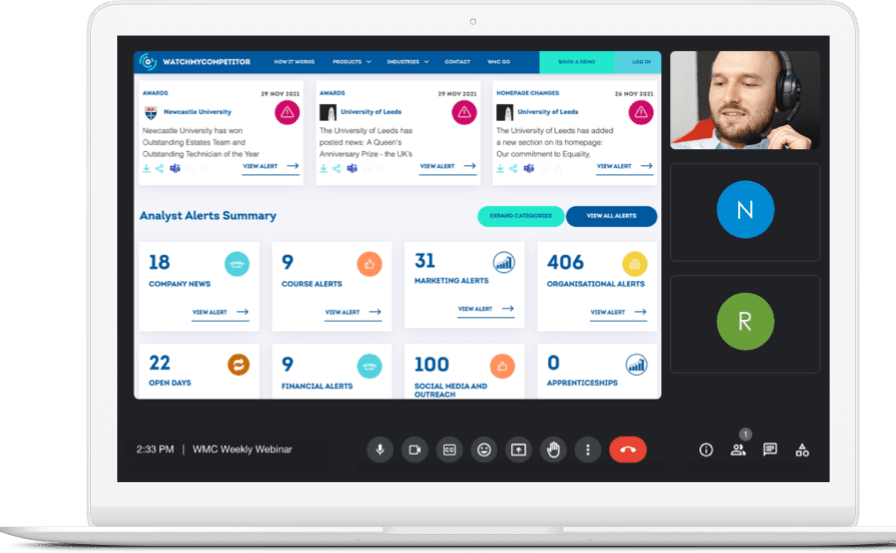 Why Join A WMC Training Webinar
1
See The Latest WMC Platform Features & Learn How To Use Them
2
Learn How To View The Intelligence Most Relevant To Your Role
3
Learn How To Identify Wider Trends From The Intelligence Gathered
Who can join?
The WMC training webinars are currently for existing clients only. If your company is currently using our platform, you are welcome to sign up to any webinar below. Employees at partner companies who have never or rarely used the platform are encouraged to register.
Please use your company email address to register for a webinar. Interested participants are welcome to join more than 1 training webinar.
If your company is currently not using the WMC platform, please schedule a demo meeting with a member of our team.