Our vision
Todays competitor landscape
Today, more than ever, your company has to compete with increased local and international competition. Technological change means that new products and services are being launched faster than ever. What used to take years is now taking weeks or months.
Your customers are comparing your products and services with your competitors online. In fact 57% of the buying process is completed before the customer engages with sales.
To make matters worse, competitors can launch a new promotion or product with the click of a mouse. Collectively, this increased competition and competitor activity means that your business needs to be more vigilant and responsive than ever.
Monitoring your competitors, clients and trade partners digital footprint allows your organisation to better respond to threats as well as opportunities, providing a real competitive advantage.
"

Competitor activity means that your business needs to be more vigilant and responsive than ever.

"
Our vision and mission
Initially we built WMC for our own use to automatically track companies who were are own competitors, clients and regulators across a number of countries as there were no practical alternatives.
The benefits of real time, high value intelligence on competitors, clients and trade partners helped us in lots of different ways from responding to competitor product and feature rollouts to building stronger relationships with clients and responding to and influencing regulatory changes.
We believe that in an increasingly online world, where over the next 5 years we expect to see significant change with new emerging players, new technology and market disruption; being able to cast a net over your organisations digital landscape, automatically receiving intelligence on competitors, emerging players, clients and other organisations will help ensure the success of your organisation.
Our mission is to provide that enterprise business intelligence platform that through the latest cutting edge technology, brings together high value intelligence from the web, news and social channels.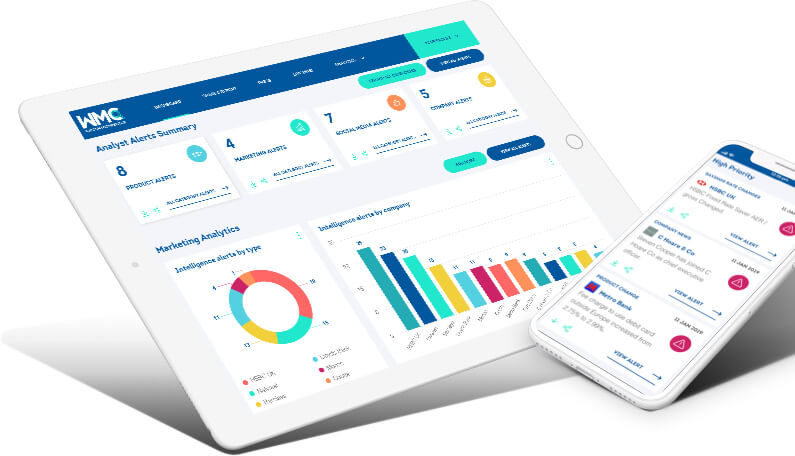 WMC automated tracking across your digital landscape
Competitors

Clients

Regulators

Trade Partners
Product Data
Events
Company Changes
Promotions
Product Changes
News
Leadership Changes
Key Content Published
Partnerships
Marketing Changes
We collate & provide
targeted insights through…
Automated Tracking

Dedicated Analyst

Prioritised Alerts

Prioritised Alerts

QUICK Distribution

USEFUL Translations
With WMC your
organisation is always…
…in the know
Real-time BI alerts mean you never miss a single detail, enabling you to react instantly to any change in your industry. Take advantage of opportunities, set trends, never get left behind.
…ahead
Comprehensive, top-down industry analytics show you how you shape up against competitors in real time. Adapt and optimise to deliver superior offers, stand out from the crowd, increase market share and drive revenue.
…efficient
Full market intelligence automation to track competitors increases efficiency and frees you up to focus time and resource on more pertinent high-value activities.
…strategic
Deep insight into your competitive landscape, your customers and your own brand defines and reinforces strategy and improves decision making.
…prepared
Timely, reliable intelligence enriches your own analysis and reports. Have every detail covered and present to senior stakeholders with confidence.
…inspired
Full exposure to everything happening in your industry aids innovation. Never be short of inspiration for product development, campaigns and content.
…integrated
Collaboration tools make it easy to empower your teams with knowledge, putting your entire business on the same page.
Take a look
Book a demo and see exactly how the WMC business intelligence platform can help you protect and grow revenue.
* required fields